Buckland Church
Buckland church has an amazing collection of treasures including 17th-century testerhead pews, 15th-century wall paintings, and a 15th-century cope. We prepared for Buckland church a folder of information leaflets and a six-panel exhibition.
Click on image to enlarge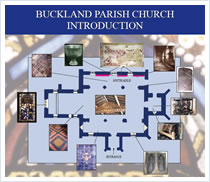 Introductory panel for six-panel exhibition in Buckland Church
---
Painswick churchyard
Painswick churchyard has a remarkable collection of tombs which were the subject of a project to conserve the tombs and provide information for visitors. We designed and produced a three-panel exhibition and compiled and produced a guide to the churchyard as well as a collection of information sheets in a folder for schools use and two workbooks for the local Infant School. www.painswicktombs.org.uk/sales
Click on image to enlarge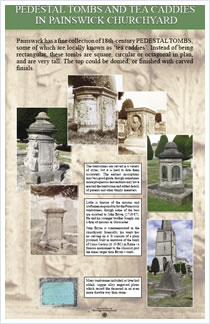 Sample panel from the exhibition for Painswick Church
---
St Oswald's Priory Gloucester
We designed a descriptive panel for the re-display of the ruined Anglo-Saxon and medieval church.
Click on image to enlarge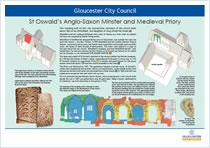 Display panel for St Oswald's Priory, Gloucester