One of Richard Bryant's particular skills is the recording of standing buildings and of stone carving (Richard's drawing of the ruin at St Oswald's Gloucester has been used in many publications and part of it is the logo of the Society for Church Archaeology). www.britarch.ac.uk/socchurcharchaeol/
In 2006-7 Richard Bryant and Gemma Bryant undertook to produce elevations, plans and details of the early-14th-century tomb of Edward II for Gloucester Cathedral. This major project was undertaken using photogrammetry as a base for the north elevation, though site constraints meant that the west and east elevations and most of the south elevation had to be recorded by hand. Richard Bryant created cross sections of this complicated monument.

A 3D reconstruction of the tomb was created by Gemma Bryant, showing the phases of construction.

In 2008-9 Richard Bryant carried out recording of the medieval statues on the buttresses of the South Aisle at Gloucester Cathedral, together with a detailed record of the medieval buttresses themselves in advance of restoration.
click on image to enlarge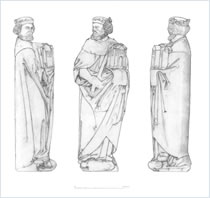 Gloucester Cathedral S. Aisle Statue 1