We design and produce Archaeological Journals, Record Society volumes, and History and Archaeology Monographs. We pre-flight all files before producing pdfs for print. We commission print and bind from major book printers, and we monitor the print and bind process to ensure the quality of the finished volumes. As part of this process we check the folded and collated printed sheets, together with sample cases, covers and jackets, before the volumes are bound. We hold a wide range of fonts, including Anglo-Saxon special characters and Classical Greek with all the necessary breathing-marks.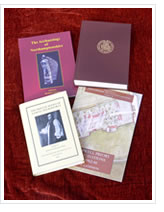 We have specialist typographic and design skills that can perhaps best be seen in volumes that require the close integration of text with illustrations and tables, or in complex, heavily-formatted text. We offer extensive production editorial support to clients, and we check the quality of all illustrative material supplied. We receive text normally as Word files, but material can be keyed if necessary. Illustrations are increasingly submitted on disc as tiff, jpg, eps or pdf files, but original photographs and lineart illustrations can be scanned if necessary. We are very willing to discuss any text or illustration problems with clients.
We are also willing to undertake the substantive editing of text and the enhancement of the illustrative content of volumes. This can include writing additional sections of text and the production of new illustrations if required. An example is Sopwell Priory Excavations 1962-66 (2006), commissioned by the excavator/author and published as a supplement to Hertfordshire Archaeology and History Volume 14.